It is very rewarding to advise and mentor graduate as well as undergraduate students. To date, I have chaired 11 doctoral committees, served as a member on 15 others, chaired 1 master's committee, and advised 10 undergraduate honors theses. Below are several of my current and former students.
Current doctoral students (committee chair)
Nasim Motalebi joined the IST doctoral program in 2017. She holds an M.S. degree in Architecture from Penn State and a B.S. in Architectural Engineering from the University of Terhan. Her interests are in humanitarian innovation and the intersection of community innovation and design.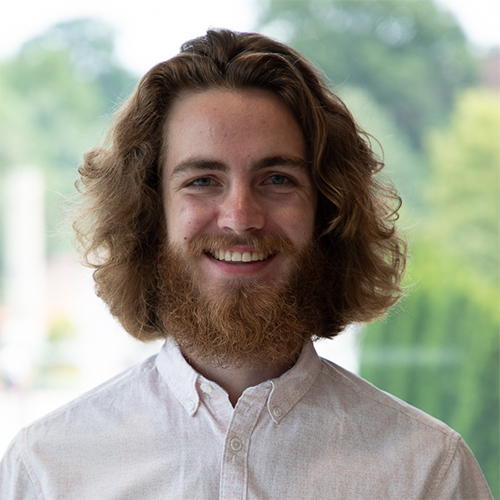 Matt McGee joined the IST doctoral program in 2019. He holds a B.S. in Mathematics and Statistics from the University of South Carolina. His research interests are in Date Science in humanitarian contexts.
Former doctoral students (committee chair)  
Rich Canevez – (PhD 2020) is an NSF/CRA CI Postdoctoral Fellow at the University of Hawaii. Rich joined the IST Doctoral Program in Fall 2016. In addition to his doctorate, he holds undergraduate degrees from the University of Michigan and spent some time in the Cognitive Science doctoral program at RPI prior to leaving to join a start-up. While at Penn State, Rich was awarded the Bunton Waller scholarship, served as a research assistant on the NSF-funded TribalNet project, and was awarded a fellowship for his dissertation research by Penn State's Indigenous Knowledge Consortium.
Ying Xu (PhD 2018) is a Data Scientist in Silicon Valley. In addition to her doctorate, Ying holds a Master's Degree in Innovation from the Graduate School of the Chinese Academy of Sciences and a bachelor's degree in Information Management from Central China Normal University. While at Penn State, Ying received funding from both Penn State's Africana Research Center and UNHCR to conduct research with refugees in Jordan and Rwanda.
Dan Hellmann (PhD 2018) In addition to his doctorate, Dan holds a Graduate Certificate in Geospatial Intelligence from George Mason University and a BS in Geography from Penn State. During his doctoral studies, Dan was awarded the NASA Pennsylvania Space Grant IST Graduate Student Award, together with a $5,000 stipend, for the 2017-18 academic year.
Eric Obeysekare  (PhD 2018) – Eric is a social entrepreneur in the FinTech sector. Prior to joining the doctoral program, Eric served in the Peace Corps in Cameroon (West Africa). During his doctoral studies, Eric served as a Fulbright Fellow (dissertation research) in Rwanda from January through October 2017.
Jon Becker (PhD 2016) – Jon is a healthcare analytics consultant. Jon joined the doctoral program in 2009, following an intensive undergraduate experience as a Schreyer Honors student, and double major in IST and Finance. His research focused on data management in health information systems.
Louis-Marie Ngmassi Tchoukeau (PhD 2011) – Associate Professor of MIS, Prairie View University, Texas. Louis-Marie is the 2016 recipient of the Department of Homeland Security Scientific Leadership Award, a $5 million grant.
Nicolai Pogrebnyakov (PhD 2008) – Associate Professor of International Economics and Management (tenure track), Copenhagen Business School and Senior AI Researcher at Thompson Reuters.
Annemijn van Gorp (PhD 2008) – Data Center Coordinator, Ministry of Economics and Climate, The Netherlands.
Ankur Tarnacha (PhD 2008) – Consulting Director, IDC.
Master's and undergraduate theses
    Abdelhady Abuolba (M.S. 2020) – Appian software consultant
Trey Thomas (BPhil 2009) – Assistant Professor, UT Arlington
Ryan Pfister (BS – honors, 2009) – Associate, Pariveda Solutions